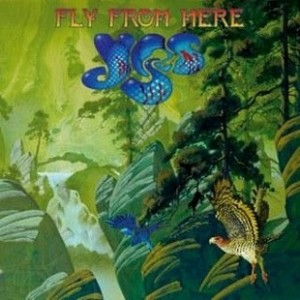 Yes is one of the longest-lived rock bands, and one of the most successful both musically and in terms of sales. Critics have been of two minds about the band, admiring their undeniable talents but denouncing them for pretentiousness. But it's not pretentious to make ambitious music if you're capable of doing so, as Yes has proven over the years.
I've enjoyed the band's music since I first heard it decades ago, and even when they weren't making their best music I've always thought their intentions and effort quite credible and honorable. Although vocalist Jon Anderson is probably the most distinctive member of the band, known for his soaring male-alto vocals and impenetrably ambitious, mystical lyrics, the only individual to play on all the band's albums has been bassist Chris Squire. On the current album, the newly released Fly from Here, Squire is indeed on hand to provide his solid melodic-bass musical foundation, but longtime vocalist Anderson has been replaced by David Benoit, who had previously sung in a Yes cover band.
Benoit is a very talented singer and fits in well with the group, which also features longtime Yes (and Asia) guitarist Steve Howe, the band's long-tenured drummer Alan White, and master keyboard player Geoff Downes (Asia, The Buggles). Most of the songwriting on the album is by Downes and Trevor Horn, a former Yes vocalist who produced a couple of the group's 1980s albums.
Fly from Here, the band's twentieth studio album and first since 2001, thus brings back a Yes similar to the band of Drama and the rest of the group's 1980s albums, a team that's a bit less ambitious but rather more coherent than the band tended to be under Anderson's leadership.
Here's a track-by-track description:
The album opens with the five-part song "Fly from Here." The instrumental opening track, "Fly from Here: Overture," immediately announces a sound strongly reminiscent of the Drama band that featured Downes and Horn.
"Fly from Here, Pt. 1 – We Can Fly" brings in vocals by David Benoit. He has an appealing voice, and in this multipart song he doesn't sound too much like longtime Yes lead vocalist Jon Anderson. That is a good thing, as it establishes Benoit as a strong singer in his own right. The track is mid- to up-tempo and features a more rock-oriented style than Yes's usual, but the melodies and instrumentation are sufficiently sophisticated, and the chorus is quite grand and melodious in the band's best tradition.
"Fly from Here, Pt. 2 – Sad Night at the Airfield" begins with some of Steve Howe's appealing fingerpicked acoustic guitar and Benoit's vocals, and then, as has been characteristic of the band over the years, and then rises in volume into a more rock-style passage with full band instrumentation. It then alternates between softer and more powerful passages. Here, too, the vocal melodies are appealing, and Howe offers some lyrical steel guitar accompaniment.
"Fly From Here, Pt. III – Madman at the Screens," opens with syncopated keyboard chords reminiscent of one of my favorite obscure bands, England. Benoit's vocals are likewise syncopated in pace with the keyboards. The song goes through several different rhythms and instrumental backgounds and is quite good. This song sounds very much like the band did in its Drama album.
"Fly From Here, Pt. IV – Bumpy Ride" is mostly an up-tempo instrumental of just over two minutes, reminiscent of some of the brief experiments on the band's Fragile album. It burbles along with another of the current album's syncopated rhythms, as might be expected in light of the song's title. It's very likeable.
In "Fly From Here, Pt. V – We Can Fly Reprise," Benoit really does sound like Anderson, with his soaring high tenor gracefully conveying the song's main vocal theme in the words "And we can fly from here." It's a classic Yes-style song, with a smart, logical guitar solo.
The rest of the album consists of songs of three to seven minutes in length, all of which are quite good. "The Man You Always Wanted Me to Be" is a mid-tempo number, somewhere between pop and classic rock in its effect, nicely performed with an appealing vocal chorus passage. Squire's fuzzy bass guitar stands out on this track. Here, too, Howe's guitar solo is tasteful and appealingly less showy than his more overtly ambitious guitar work of the band's classic early to mid-'70s years. His guitar work on this album is often reminiscent of his performances with Asia.
"Life on a Film Set" is a fast-paced song featuring rapidly strummed acoustic guitars and a distinctive repeated passage on synthesizer, plus very Anderson-like vocals by Benoit. Another very enjoyable song.
"Hour of Need" begins with some solo twelve-string fingerpicked guitar by Steve Howe, then turns into a midtempo song featuring acoustic rhythm guitars, with some synthesizer interjections, a pace and arrangement reminiscent of the classic song "Your Move" from The Yes Album, and more Anderson-like vocals by Benoit.
"Solitaire" is a guitar solo by Steve Howe with flamenco overtones and some medieval-sounding passages. It's an engaging composition and is performed well.
The album closer, "Into the Storm," is an up-tempo song with a strong backbeat, with electric guitars and piano providing a driving rhythm, and multiple voices on many of the vocal passages, rather similar to some of the better songs by the U.S. band Starcastle. An appealing instrumental riff is played in unison on both synthesizer and electric guitar. As in "The Man You Always Wanted Me to Be," Howe's electric guitar solo which closes out the song is well within his range of competence and makes good musical sense.
On the whole, "Fly from Here" is an impressively enjoyable addition to Yes's musical catalog. One might well miss Anderson's soaring voice, and perhaps not miss his eccentric, ambitiously mystical lyrics (I think they're just fine), but this is what Yes is now, and it's a Yes well worth listening to. Long live Yes.